2023-2024 Policy and Goals
Rotary Club of Tokyo Hiroo
President of 2023-24 Pablo Puga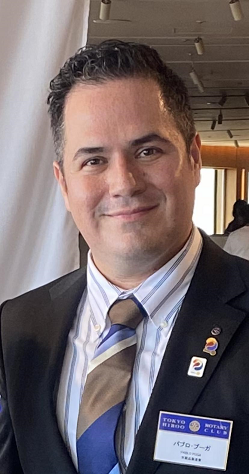 "Embracing Unity and Diversity, Inspiring Change: Tokyo Hiroo Rotary Club"
My name is Pablo Puga, and I am the President of the Rotary Club of Tokyo Hiroo for the year 2023-2024. My slogan fir this year is "Embracing Unity and Diversity, Inspiring Change: Tokyo Hiroo Rotary Club"
I feel an immense gratitude and a deep sense of honor as I assume the role of Chairman of our esteemed club. I hail from the beautiful country of Mexico. However, Japan has been my cherished home for the past 23 years.
Having spent more than two decades in this incredible country, I have had the privilege of immersing myself in its rich culture, forging deep connections with its people, and embracing the values that make Japan so special. It is an experience that has profoundly shaped me and instilled within me a deep sense of gratitude and commitment to the community we serve.
The Rotary Club of Tokyo Hiroo was established in the year 2000, and since its beginning it has been a model of DEI in action. We have actively sought to engage members from different cultural backgrounds, ensuring that their voices are heard and respected. Our club has embraced the richness of our diverse membership by organizing events that celebrate cultural exchange, promoting a deeper understanding and appreciation of one another.
With 31 dedicated members, our club represents a dynamic blend of talents, perspectives, nationalities and experiences. We take pride in our diverse membership, comprising 17 extraordinary women and 14 exceptional men. This gender balance showcases our commitment to inclusivity and equality, recognizing the invaluable contributions of all members, regardless of gender.
For my chairman year I have set the title, Embracing Unity and Diversity, Inspiring Change. I want to continue embracing unity by making one and each of our members feel part of the team I want to continue supporting international projects that reflect our Diversity and inspire other people to follow and join us.
I invite you all to join me on this journey of unity and friendship. Together, let us create an inclusive and vibrant Rotary Club that reflects the diversity of our membership and embodies the spirit of fellowship and the spirit of service above self.